Sign up to our newsletter
Asbestos could potentially be found in buildings that were constructed before the year 2000, when it was mainly used as a general building material and for insulation purposes due to its low cost, strength, chemical and heat-resistant properties.
But what about some of the not-so common places where asbestos can occur? We've outlined some of the unusual places where our team of experts have discovered asbestos, from chimney caps and breezeblocks to a decommissioned train carriage…
Asbestos wallpaper
One of our surveyors once discovered asbestos remnants in embossed decorative wallpaper, in a Victorian property in Lewisham, South London.
The remainder of the wallpaper had already been removed and replaced, but the remnants were still there and quite high up the wall, making it hard to reach. Remember to check the wallpaper if you're working in a domestic property, because you never know where you might find asbestos…
Decommissioned train carriage
Over 20 years ago one of our experts visited a residential property and found crocidolite-based insulation in the loft. This had been taken from a decommissioned train carriage, as the homeowner believed it would make sufficient insulation for the loft.
Unfortunately, squirrels made their way into the loft and took some of the asbestos to create their nests, which were in the garden and outbuilding. As a result, the asbestos contamination at this property was extensive.
Electric cable for lighting
One of the last places you'd expect to find asbestos – in a light cable.
The light fitting in question had chrysotile asbestos in the cable, which our experts discovered and removed.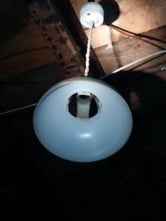 Elevator electrics
How many times have you got into a lift and wondered "could there be asbestos behind those buttons?"
In another unlikely place for finding asbestos, we once discovered some chrysotile wiring within the electric workings of an elevator.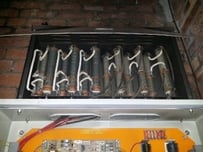 Floor tiles on a wall
In this case, we discovered chrysotile asbestos in floor tiles that had been fitted on a wall in a residential property.
Make sure your surveyors fully check all external areas for the obvious and not so obvious asbestos materials!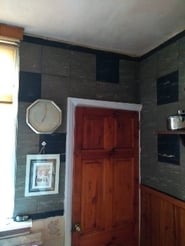 Within breezeblock
We even discovered asbestos in some breezeblock once. It contained asbestos insulation board.
Breezeblock isn't generally known to contain asbestos, however it can be known to conceal it, which is what clearly happened in this case.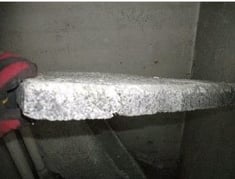 Under chimney caps
Working on a roof, we once found an asbestos insulation board underneath the chimney caps.
This sort of discovery draws on how important it is to check every last inch of the property you work with, to make sure any concealed asbestos is found and dealt with accordingly.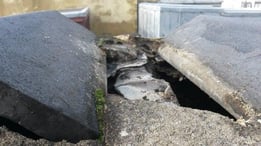 In a wine filter
In wine-producing countries where asbestos is still legally usable, it is implemented as a filter to improve the appearance of wine and dispose of particles that can cause the fluid to blur.
Within most Western countries, wine filtering with asbestos is illegal. In the cases where wine filtering occurs with asbestos, it is possible that the consumer is exposed when drinking the wine.
Those are some of the most unusual places for finding asbestos. If you'd like to find out more about the asbestos services we offer, including air monitoring, surveying and training, get in touch with our team of experts today.